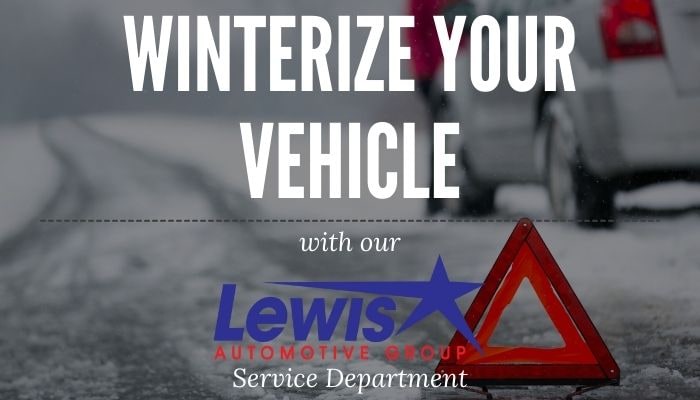 We might be back into the part of the year that some Arkansans have nicknamed 'second summer' here in Northwest Arkansas, but even as we have our last little bout of heat here in the Ozarks, it's also getting farther and farther into the Fall season. Razorback football has started back up, students have returned back to school around the area, and pumpkin flavored everything is starting to show up at your local restaurants and grocery stores. Our Mopar Service Department at our Lewis CDJR dealership in Fayetteville, AR has been pretty busy lately taking care of our valued customers, so we wanted to extend a friendly reminder that Winter 2022 is just around the corner. This is a perfect time to reach out to our Service Team to schedule a service appointment to get your Jeep Wrangler ready for the colder months. To make sure that your new or used car is safely prepared for winter driving conditions, we wanted to pass along a few tips from our decades of experience in servicing new and used vehicles to winterize your car.
Battery - As the temperature gets lower, that also decreases your car's battery power, so it'll take a little more power to start your car in the colder months. If you've already had a few issues out of your current battery, the risk of your battery breaking down does increase. Our service department and Mopar parts counter are stocked up with new batteries, and we're here to help you get a new one installed so you can have that peace of mind that you've got it taken care of with us.
Brakes - Cold weather doesn't necessarily hurt your brakes or braking system, but it's important to be sure your brakes are working properly. Especially when the roads may be wet, cold, or even icy, you're going to want to make sure that you've got updated brake pads that are in great working condition. We offer full brake inspections, and your Service Advisor can ensure that you've got your brakes in excellent shape before the winter months roll in.
Cooling systems - With the antifreeze in your car and engine, you're going to want to make sure you've got a ratio between 50/50 and 70/30 of antifreeze to water. You can ask our service team when you have your appointment which antifreeze they'd recommend as the best match for your vehicle, and make sure that you've got the right coolant to water ratio to prevent potential freezing and corrosion.
Belts, spark plugs, cables, hoses - These elements in your vehicle are necessary to keep you driving to and from your destinations. While they're not necessarily affected by colder temperatures, you also don't want to risk a breakdown of a worn hose or a broken wire while you're out in winter conditions. You'd potentially be stranded out in the cold temperatures over a fairly small element in your car's engine. We can work together to prevent that; just ask your Service Advisor to do an inspection of these elements when you bring your car in so you can address anything needed while it's still warm outside. That way, your winter travels can go according to plan, and you're comfortable knowing you've got that peace of mind.
Winter tires - While the running joke may be that the Meteorologists at the news stations don't necessarily give the most accurate predictions, it's still important to note that it's been reported that this upcoming winter in Arkansas is going to be a cold and wet one. You can navigate winter conditions with all-season tires on your Jeep but those may not offer the best performance on particularly snowy or cold, wet roads. Winter tires are made a bit differently than the rest, in that they're manufactured with special compounds that are engineered to resist hardening in cold temperatures so that you have better traction in ice, snow, slush, and even just cold pavement than you would in standard tires.
For the DIY'ers - There's a few other tips that you're welcome to implement throughout the winter months to make your cold weather driving much safer and more enjoyable, including:
Check for falling temps before taking a drive, especially on longer trips. You're probably going to want to drive a bit differently and pay attention to your vehicle's traction depending on whether it's above or below freezing.

Install winter wiper blades. These come equipped with rubber that keeps ice from collecting on the blades. They do increase the load on your wiper motor since they're heavier than the standard, so you'll want to switch back once the weather turns warm.

Keep your washer fluid full. You can also add a bottle of washer fluid antifreeze to your reservoir. You can find this through our Fayetteville Car Parts Department or just ask your service advisor to add that task to the list when you bring your vehicle in for service.

Pack a winter safety kit. In the inopportune chance you do end up stuck in your vehicle for an extended period of time, it's important to have a few necessities with you. Some of these include a flashlight and batteries, an extra jacket and socks, some non-perishable food and water, an ice scraper, jumper cables, an extra blanket or two, extra antifreeze, and a first aid kit.
We're happy to help with any of the above items listed, and would love to make sure that you have a safe and happy winter. Give our Lewis Automotive Mopar Service Department a call at (888)449-7832, or schedule your service appointment online and let them know you're looking to winterize your car. You can even feel free to print off this blog post if you'd like a quick list of just what specific services to ask our team to complete for you, and we'll be happy to get that taken care of as quickly as possible!