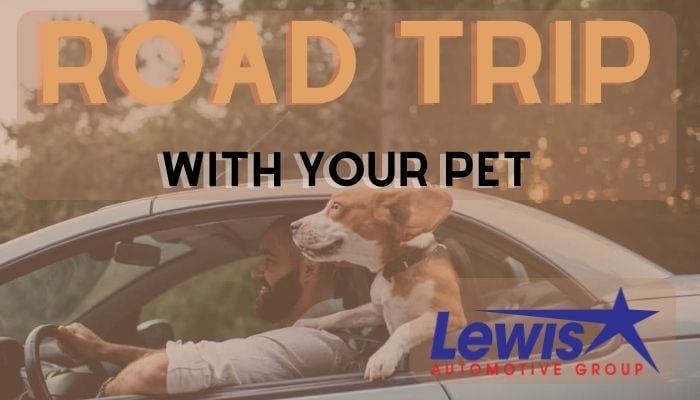 Road trips can be wonderful, including the upcoming fall and holiday trips you may be planning to visit family around the Arkansas area and beyond, but bringing pets along can be a hassle that outweighs any benefits they may bring. We here at Lewis Automotive in Farmington, AR decided to put together some helpful tips for traveling with your dog or cat in order to keep your pet happy while also keeping everything on track. We have a ton of people that absolutely LOVE their pets, and make every effort to include them in their plans. We've even had people come in and test drive a truck like a RAM 1500 pickup or a used Toyota SUV, simply to make sure that their dogs would fit comfortably and enjoy the ride.
Breaks
Stops give your dog plenty of breaks along the way so they can stretch their legs and avoid any accidents in the car.
Water
Make sure you give your pet plenty of water when you're going to or from a hot location. Bring water and food bowls for your dog, and make sure to give them something to eat or drink at each rest stop. Because they fold up small and are easy to clean, collapsible bowls are a great option for road trips.
Safety
Keeping your dog safe in the car is an important but frequently overlooked consideration when families travel. Doggy seatbelts and collapsible dog boxes are both good options for keeping your pet in the backseat while you're behind the wheel. With stricter pet laws in hotels and other lodging, the use of an animal cage can save the day!
Update Tags and Chips
One of the worst things that can happen on a road trip is being separated from a loved one, including your dog. Your pet's tags and microchips should always be up to date so that if the unthinkable happens, you'll be able to locate them quickly.
Prepare by Exercising
Similarly, tiring out your dog before hitting the road is a good idea. Spending some time on a walk or playing fetch with your pet before going on the road can save you hours of frustration. With exercise, your dog is more likely to relax and even fall asleep in the car, allowing you to focus on the road ahead!
DO NOT LEAVE THEM IN A HOT CAR
No matter how long it takes you to get inside the gas station or restaurant, never leave your pet in a hot car. Take turns going inside if necessary for bathroom breaks while the car is running, and look for restaurants or rest areas with outdoor areas where you can let your dog out for a bit! While the weather is hopefully approaching fall temps sometime soon, we're still dealing with the heat here in Northwest Arkansas, and the temperature inside a vehicle skyrockets in the sun much faster than you'd expect.
When you follow these tips, traveling with your dog doesn't have to be a nightmare, even on long road trips! At our Lewis Automotive Farmington dealership near you serving Centerton, Bella Vista, Bentonville, Eureka Springs, Fayetteville, Pea Ridge, Springdale, and Rogers, Arkansas, you'll find the ideal vehicle for you and your dog, no matter the length of the journey. To set up your test drive to see if your next used car for sale will be a perfect fit for you AND your pet, feel free to come see us at our Farmington Used Car dealership location.