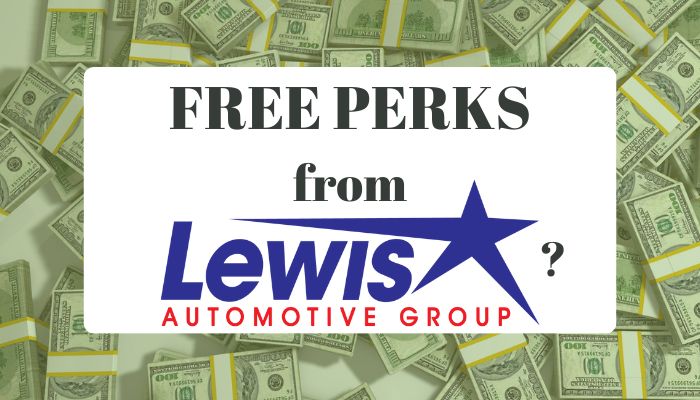 With the price of many different necessities being higher than normal, it's nice to be surprised with some free items every once and a while. Whether it's an unexpected gift from a friend, a free cup of coffee on your Birthday, or winning a door prize at a local get-together, getting something for free can tend to make your day, or week, that much better. That's why here at Lewis Automotive Farmington, we make sure that you get the best value when it comes to your vehicle. And we don't just mean buying a used SUV like a GMC Yukon for sale, but in the care and service of your vehicle for years after you first purchase it. So, for this week's blog post, we wanted to highlight just a few of the 'free perks' you get when you choose to do business with Lewis Farmington Used Cars as your preferred local used car dealership.
Our Lewis Guarantee
First up, we introduced our Lewis Guarantee in recent months, so that we can be sure to extend extra benefits beyond just the normal. While we do get quite a few used cars for sale that may be completely unique, we also know that you have the option to purchase a RAM truck like the RAM 1500 Pickup from almost any other car dealership near you, and end up with the same exact truck. So, we decided to set ourselves apart from the competition by being committed to giving our customers the best customer service experience possible, and extended our warranties (on both new AND used vehicles) way past the manufacturers' expiration dates. On top of all that, the Lewis Guarantee also offers free oil changes for a year, not just your first one, free key replacement, one year of tire and wheel protection, and a five-day exchange program to make sure you're 100% satisfied with the vehicle you chose to drive home.
Referral program - free $100
Let's say you've been watching our specials, like the recent special financing rates and rebates on 2022 Jeep Cherokee SUV's, but you also aren't looking to make a purchase right at this moment. However, you also recall overhearing your brother-in-law saying that he's currently researching prices on Jeep SUV's for sale himself. We offer $100 referrals! Not only does this help us with establishing connections with potential new customers, but it also helps you out as well. For every friend or family member that you refer to us that ends up purchasing a vehicle, you get a check for $100. Got five people looking for vehicles that you can send our way? You just got $500 extra for your Christmas budget, and you can rest easy knowing you sent them to a dealership that you trust, backed by the extended benefits of the Lewis Guarantee.
Free Vehicle Appraisals
One step to getting a new vehicle that's generally a pretty big factor for our customers is the question, "how much is my trade worth?" Vehicle values are still fluctuating across the country, and Arkansas is no exception in that regard. Even online appraisal tools like Kelley Blue Book can vary in the values they're showing, the estimates can be thousands of dollars apart depending on which site you're visiting, and the values all seem to change week to week. It makes it difficult to get a number you can rely on to determine just how much your current vehicle is worth in trade value. That's why we offer free vehicle appraisals here at our Farmington, AR dealership. That way, a trained buyer with access to all the necessary online pricing tools and years in the car business has the opportunity to inspect your vehicle, get behind the wheel, hear how smoothly the motor turns over when it starts up, and get you a firm value on your vehicle. Not looking to buy today? That's fine, we will still get you an estimate on your trade value so when you ARE looking to trade, you'll have all the information to get the process started with peace of mind on your side. We also buy vehicles outright, so if you've got an extra car where you'd prefer to have extra money, our appraiser can give you a value to Sell Us Your Car with a quick inspection and get you a check ASAP.
Facebook / Social Media
If you're a long-time follower of our dealership Facebook page, or just liked it this morning, you'll start to notice a few trends. One of them is our sales teams cheering on the Razorbacks and celebrating their wins. Another would be the amount of cake our employees get to enjoy month after month, since it seems like we're almost constantly celebrating birthdays and work anniversaries. What can we say, we enjoy celebrating our employees! The one you may be most interested in, however, would be the number of giveaways we do for our customers and local organizations. Whether it's cash donations each year to Shop with a Cop, or us giving away a brand new Yeti cooler or camping stove to a lucky winning customer, we love being able to give back. Be sure to follow our social media pages if you aren't already, and you have a GREAT chance at being next in the Winner's Circle.
While we could probably keep going and list out all the other freebies you have access to when you choose Lewis Automotive Farmington, like our free tire inspections through our Fayetteville Jeep Service Department, we'd love to be able to show you in person. Give us a call at (888)449-7832, and our Inventory Specialists will be sure to help you with whatever you need to set up. It could be a VIP Test Drive in that new 2023 Dodge Hornet SUV you've been eyeballing, a vehicle inspection with our appraiser, or even just a fresh cup of hot free coffee while you wait on your oil change. Our team will make sure we're always doing our best to give you a five star experience every time you choose to do business with us.