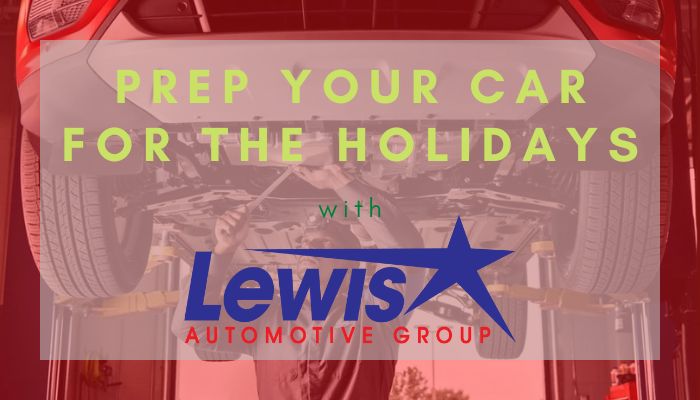 While the fall weather here in Farmington, AR is still deciding if it wants to cool off or not, we're still loving the chance to soak in all the gorgeous sunshine we can get in this NWA autumn here at Lewis Automotive Farmington. While you're getting used to changing seasons, and maybe your internal clock after the Daylight Savings Time change, it's also time to start planning for any upcoming road trips you may have coming up this holiday season. Our CDJR Service Department in Fayetteville sees an increase in service appointments in the weeks leading up to major holidays, so you'll want to beat the rush and make sure any maintenance your Jeep or RAM vehicle may need is on our schedule before it gets booked up for the winter season.
Making sure to schedule service on your car before a road trip is an essential step to ensuring your travels end up being as smooth as possible. It can put a damper on any trip to run into issues like being stranded between cities with an issue like a flat tire and no emergency kit! We put together a quick checklist you can use when scheduling your service on your (BRAND) vehicle (LINK), so that you can be ready with all the information you need when speaking with our Service Advisors about the service you're needing.
Oil Change and Inspection
Before heading out on the road, it's important to make sure you're either getting an oil change, or have had one completed in the previous few weeks. While getting the oil change, you should also have your service technician do a bumper-to-bumper inspection and maintenance check, to look at the other fluids, belts, brake pads, and hoses that make up the systems that keep your RAM truck or Jeep SUV running and on the road where it should be. Having correct oil levels is especially important, since fresh oil helps to clean the moving parts of your engine, while helping spread out the heat of the engine to prevent a mechanical breakdown. Without having the proper level and quality of oil, your vehicle won't run properly.
Top off all Fluids
According to the National Highway Traffic Safety Administration (NHTSA), motor oil isn't the only fluid that should be checked before a long trip. Transaxle and differential oils, brake fluid, windshield washer fluid, coolant, and power steering fluids should all be inspected and topped off before any major trips. No matter what kind of brake fluid your vehicle uses, it's a top priority to check the condition and level of the fluid. Since brake fluid operates in a sealed hydraulic system, it's designed to work correctly when kept free from moisture and contaminants so that you've got full functionality from your brake pedal to your brake pads.
A/C and Heater Check
Especially with the weather temp swings that we've had in recent months here in NWA, you'll want to make sure both your Air Conditioning and Heating systems are working properly before you embark to wherever your destination is. You'll want to run your vehicle's fans and airflow systems to determine if the air is blowing as hot or cold as it should be, if the air is blowing as strong as it should, and check under the hood and/or under your car to see if there's any refrigerant leaks coming from the hoses or compressor that could drain the refrigerant. Another part of this system you should have checked is the air filter, especially if you're traveling with pets. Pet dander is an easy way to block up the air filters in a vehicle, so you'll especially want to double check these to make sure they're cleared.
Inspect your Tires
A road-trip ready car should be equipped with great tires to handle all the potential bumps, terrains, and weather conditions you'll be traveling through. They're a critical asset to making it to and from your destination safely. You can check with our Mopar Parts Department to see what tires we currently have in stock if you're needing a replacement, but you need to always check your tire pressure and tire treads before any major trip, even if you just got the tires replaced recently. With your tire treads, if your tread depth is lower than 2/32" you can expect much less traction than you'll need, even if you've got great quality brakes.
Before you start out on your holiday travels, the best way to prepare and have some peace of mind before your trip is by having your vehicle fully inspected by a factory-trained technician. The best way to do that is with a vehicle inspection through our Fayetteville Mopar Service Department. Give us a call at (888)449-7832, or schedule a service appointment online, and we'll get you prepped and ready for your next holiday adventure!