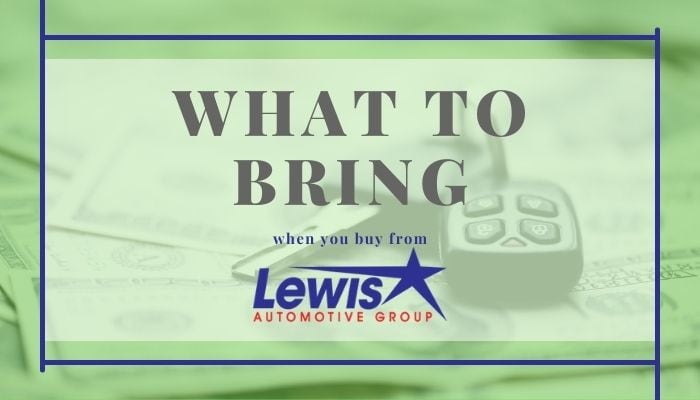 When you're ready to buy your next car, whether that's a used SUV (LINK) or a new RAM truck for sale, it can sometimes feel like a humongous decision. But here at Lewis Automotive Farmington, you can rest assured that we've been in business in Northwest Arkansas for so long because of our excellent local reputation and commitment to giving every single customer a fantastic buying experience, as well as our being sure to take care of our customers after they've bought their next vehicle from us. Whether that's through our Lewis Guarantee warranty program, our Delivery Specialists who are here to make sure you're comfortable with your new vehicle's technology features, or our Fayetteville Jeep Service Department that's fully equipped with factory-trained technicians to complete your vehicle's service and maintenance, we make sure our NWA customers are taken care of at every step of their vehicle ownership journey.
If you're looking at buying your next vehicle soon, there's a few things you should make sure to bring to our Farmington, AR used car dealership so we can provide the smoothest purchasing process possible. Feel free to use this as your handy 'checklist' so you can be prepared to walk into our dealership and hopefully drive home in your next used truck, sedan, or SUV with a trip that's as hassle-free as possible.
Your Driver's License
Yes, in order to purchase a vehicle with us here at Lewis Automotive Farmington, you must have proof that you are legally able to drive the car off the lot. Always make sure to bring your Driver's License to the dealership when you come to make a purchase!
Proof of Car Insurance
Although it is not a hard and fast requirement, many financers require a proof of insurance before approving a loan. If you know you'll be purchasing the car for sure, acquiring insurance for it before you receive it is not a bad idea. Every bank we work with requires full-coverage insurance to drive the car off the lot. If you have any questions at all, feel free to give us a call anytime at (888)449-7832.
Trade-In Information
Do you plan on trading in your old car towards the purchase of a new one? We can totally do that here at Lewis Farmington Used Cars, especially since trade-ins are in high demand right now. You'll love seeing the top trade values that we're able to offer on vehicles right now, and you'll just need to make sure to bring the title and registration of the car you're planning on trading in. You should also bring the loan account number tied to your trade-in if your trade-in has an unpaid loan associated with it.
Proof of Income
Depending on how you plan to purchase your new vehicle, you may need to provide a proof of income to be approved for financing through Lewis Automotive Farmington.
Payment
Whether you're paying by check or by card, make sure to bring your preferred method of payment to Lewis Farmington when you're ready to purchase a new vehicle. This suggestion may be pretty obvious to most, but it's important to note. If you are financing with us here at Lewis Automotive in Farmington, we only allow a maximum of $2000 to be placed on a credit card for down payment. Also please make sure there is no hold, freeze, or lock on your credit, or we will be unable to run a credit check to approve you for financing! We also do not accept temporary checks. Please plan ahead and bring an acceptable form of payment and everything will go super-smoothly.
Realistic Time Expectations
At Lewis Automotive Farmington, our team consistently works hard day-in and day-out to make sure every automotive purchase goes as quickly and efficiently as possible. But we encourage all of our customers to remember that purchasing a car is a sizable financial transaction that often takes a good chunk of time. In order to reduce overall transaction time, we strongly encourage working with our incredible sales team here at Lewis Automotive Farmington before coming in to expedite the purchasing process with us. You can even set up a VIP Test Drive, and let our team know the exact vehicle you're looking to purchase so we can have it cleaned, gassed up, and ready to go as soon as you get here, and save you some of your precious time in the process.
Are you ready to take home an all-new vehicle of your very own? Click here to view the entire inventory of used cars for sale at Lewis Automotive Farmington today!