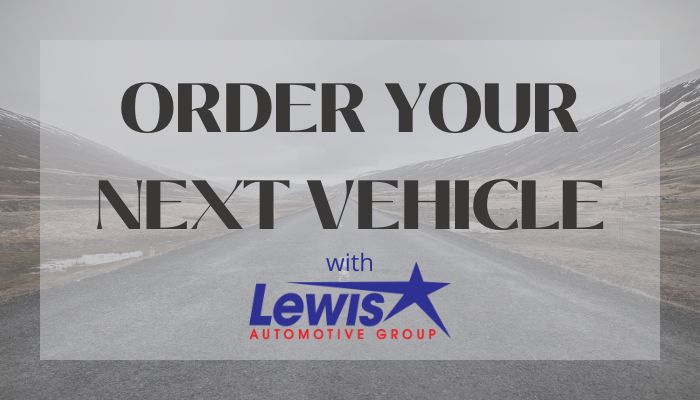 Have you noticed lately the trend of there being more and more new vehicles that are available by preordering them, like the 2022 Chrysler 300 Sedan? Custom ordering a new vehicle can be a great way to get the exact car you want from Lewis Automotive Farmington. In addition, it can save you a bunch of money and time. By preordering, you can choose the specific features and options you want, and you are more likely to get the car you want when it is delivered, rather than waiting on the chance that the new Dodge Charger or Jeep Cherokee SUV you're looking for will show up on the lot when you're ready to buy. Moreover, you may be able to take advantage of early bird specials or other discounts. And, if you live in an area with a long waiting period, preordering can help you get your car sooner. Overall, ordering your next new vehicle from Lewis Automotive in Farmington, AR built specifically to your exact specifications, is a great way to get the car you want. Maybe you're looking for a diesel work truck with a V8 Hemi engine to tow everything you need to get your job done, or you know you'll need an entertainment system in your new 2022 Chrysler Pacifica Van to keep your littles occupied so you can focus on the road while getting them from place to place. Or maybe you saw a picture of the 2022 Dodge Challenger Coupe in this year's new paint color, Stinger Yellow, and you KNOW that's the only color you have to have on your new muscle car. In any of these cases, you've got the power to choose whatever you'd like through our simple new car ordering process.
Once you've got a handle on which new vehicle you'd like to order, you can hop on over to our Vehicle Custom Order Page, and select the new SUV, Truck, or Car you've got your eye on. You can contact our team to get that process started, no deposit necessary. While we can't imagine you not deciding to drive your new car or truck home from us once it's delivered, you're under no obligation to finalize the purchase until after your new vehicle has been delivered to the dealership and you've had a chance to test drive it and fall in love with all the features you picked out specifically for yourself. You'll just submit an online request for the new Jeep you've chosen, with your vehicle preferences and chosen specs in the comment section, and one of our Farmington dealership representatives will contact you to confirm your choices, check into the incoming new inventory to see if we happen to have any matches to your preferences, and then submit your order to the manufacturer so they can build your dream vehicle!
Your sales professional will also stay in contact with you through the process while the factory gets to work on building your vehicle for you, so you can have an ETA of when your new car will arrive. Some manufacturing times may vary, but placing an order through our used car dealership near you means that the build process will be expedited as quickly as the factory times and demand will allow. You also can take advantage of the dealer incentives to finance your next car that are available either when you place your order, or the ones available at the time of the new vehicle's delivery, whichever you prefer. You can also track your order's progress through the manufacturer website as soon as your VIN number is established, which you can get from your sales professional once it's available. And, once your shiny new car is delivered to our dealership, your salesperson will be happy to notify you and help take care of all the details so you can drive your new car home and proudly park it in your driveway and show off all the cool buttons, bells and whistles that you picked out!
Ready to start building your new car? Visit our Custom Order Page to get started, or give us a call at (888)449-7832 and our team will be happy to answer any questions you might have to make your next vehicle uniquely your own!