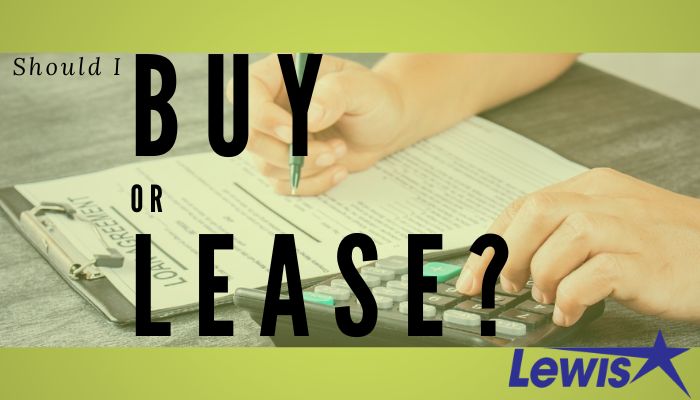 If you've been looking at our inventory of cars for sale lately and debating whether you'd rather buy or lease a vehicle like the new 2022 Dodge Challenger, you may have been weighing the pros and cons of each situation while you're shopping. One one hand, buying a vehicle means that you could have higher monthly costs, but you also own an asset - your new Dodge vehicle - at the end of the loan term. On the other side, leasing does offer the perk of driving a new vehicle every few years, sometimes with lowered payments, but you also are put in a cycle of never-ending car payments every time you sign a new lease. While you're puzzling over which option you'd rather pursue when looking for cars for sale in NWA, we wanted to help break down a few of the benefits of either buying or leasing here at Lewis Automotive Farmington. We're here to help, as your local dealership near you to make an informed decision on financing a new car.
Buying a vehicle with a conventional car loan is fairly straightforward, especially with the help of our finance professionals in our Finance Center. You'll borrow money from a bank or other financial institutions, including the 27 different options we've built our business relationships with to ensure great rates for our customers, and make monthly payments for some number of years. At the end of the loan term, the car is yours. You can keep it and enjoy the extra money from not having any more car payments and continuing to drive that new car, truck, or SUV that you love. You can drive it for as long as you like, or decide you want to trade it in for a newer model and enjoy the benefits of having a paid-off trade as part or all of your down payment on your next vehicle.
When you lease, you're going to be making a monthly payment to drive a new vehicle like the new 2022 Jeep Cherokee SUV for a set term length. In some cases, that lease payment can be less than the monthly cost of financing a new vehicle, but you also return the vehicle at the end of the lease term. You'll have the option to start another lease on a new vehicle again, and resume more payments, or buy the vehicle from the dealership with a buyout offer. For those that work from home, you can enjoy the fact that you'll most likely keep your vehicle's mileage far below the mileage restrictions on a lease. Of course, if you're someone who does a lot of driving, you'll need to factor in whether you're looking at a higher mileage than the terms of your lease allow, and incurring an excess mileage penalty.
Both options do come backed by our Lewis Guarantee warranty program, which means that you'll have the peace of mind that you've got a great manufacturer and dealership warranty in place for the expected maintenance and potential repairs on your new vehicle. With our factory-trained technicians at our Mopar-certified Fayetteville Service Department, you can rest easy that we're prepared to take care of whatever your vehicle needs and keep you out on the road where you belong.
At the end of the day, our Finance Managers are here to help guide you through the process of getting your next car, and are happy to help answer any and all questions you may have about whether you should buy or lease from Lewis Automotive Farmington. Our finance team at Lewis Automotive Group represents decades of experience in the automotive finance business, and we've been in business in the Northwest Arkansas area for over 75 years thanks to our commitment to helping our customers find the very best finance deals and lease deals on their next new vehicle and used cars for sale. They're here and ready to help! Want to start the process? You can always fill out our simple online auto credit application to get preapproved on your next vehicle, and our team can reach out to you from there and get that process in motion. You're also welcome to give us a call at our Farmington, AR used car dealership during business hours at (888)449-7832, and our team will get you with the right person to make sure all your questions about buying or leasing a car from us get answered as informatively as possible.